Virtual Taste of France
A Virtual Taste of France – Un Avant-goût Virtuel de la France! 🇫🇷
This July, as the French celebrate all things French, we invite you to join us for a 'Virtual Taste of France'.
14th July is known the world over as Bastille Day. It is a day when the good people of France celebrate Fête Nationale Française (French National Holiday).
This year, we have decided to mark Bastille Day by taking you on a Virtual Taste of France with a whistle-stop Wine 'Tour de France' and by sharing some interesting facts on French wines and foods.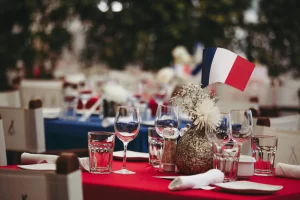 But what is Bastille Day and why is it important?
Back on July 14, 1789 The Storming of the Bastille marked what is considered the turning point of the French Revolution and the beginning of the end for the monarchy. It Revolution represented a call for liberty, equality, and a more democratic form of government.
Today, this national holiday celebrates French unity and the French way of life with picnics, parties and fireworks enjoyed by families and friends also military parades (the oldest parade in Europe!), balls and concerts.
We invite you to follow us on Instagram, Facebook or Twitter over the coming days and to enjoy a little un avant-goût de France (Taste of France)! Our virtual tour begins in the north west region of Alsace, home to one of our favourite Rieslings! Stay tuned for more!
#tasteoffrance #winelover #winetime #winewednesday #frenchwine #frenchfood #wineinstagram #wineporn #redwine #whitewine #bastilleday